Hello gamers!
Experience the thrill of hacking simulated worlds in a shared immersive atmosphere of manipulation behind curtains
World Wide Hack is a MMO simulation game about realistic hacking and cybersecurity for PC, Mac and Web. You hack into the system of QuanTech company and with other hackers discover their secrets, where the weirdest one is some experimental world networks looking like simulations.
Explore huge open world network, manipulate inhabitants and corporations hacking their computers, observe consequences of your actions and decide if you want to protect or exploit the world. All in a realistic context where nothing breaks your immersion.
Collect the most effective sets of hacking and security tools, gather assets, improve your computer to be the most feared hacker or create the most innovative web service and be the famous one. Provide experiments for your faction agendas and fight over control of worlds with other hackers.
Find out how easily some can manipulate many and how powerful but dangerous control over the information can be. And there is still far more to it all…
realistic hacking
MMO
simulation
quests
RPG
living NPC
dynamic world
Why you should play it?
Fun, yet realistic hacking
Player's decisions and consequences
Dynamic story and replayability
Realistic atmosphere of the game
Educative effect and potential
Possibility of cooperation (MMO), PvP and solo
We always wanted to play a game which brings the best from the IT world not just to IT enthusiasts but to all people interested in computers, hacking and security. We wanted to enjoy hacking with enough realism, to be able to progress fast and yet not become lost in commands. We wanted our actions to have an impact that we all together can see and feel. To fully experience this hacking atmosphere, it was necessary to be able to share this game experience it with others - you. That's why we created World Wide Hack with the hope to shift forward this game genre and show to even more people new ways of how computers can be fun!
World Wide Hack
Simulations are great for peeking into specific field and exploring some topic in practical entertaining way. This game is going to reveal hacking experience in living futuristic IT context emphasizing importance of cybersecurity. Surround yourself with huge amount of players passionate about technological progress and interested in influence of innovations on the whole society just like you are.
This text-based game has entertaining but realistic hacking and cybersecurity aspects which are set inside dynamic narrative. The feeling of being a part of deep story and complex universe is core of the player´s experience and engaging gameplay. Enjoy the futuristic atmosphere of science research center using quantum technologies to change the world as we know it.
More about the game...
You are given an opportunity to explore a huge open world through accessing the network of computers in QuanTech simulation. This simulation is pretty realistic, so you will be able to learn about individual persons, who have different jobs, friends and lives and companies with different problems and agendas. You will learn everything through their files (documents, chats, mails, images, special tools) on their computers or servers and use it for your goal. They can even reflect how you are affecting the simulation they live in.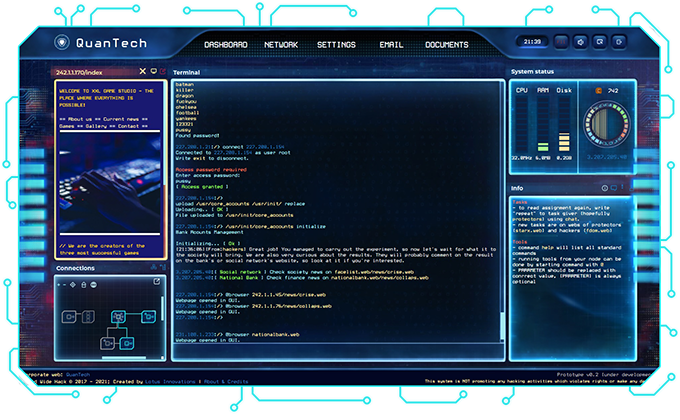 Gameplay
Hacking consist of using hacking, security and analytic tools and services
You will work for example with exploits, dictionary attack tools, different viruses, ..., firewalls, antiviruses, jails, auto-tracking.., port mapping and network scanning tools, sniffers, encryption..). There are over a hundred of tools and programs. Services will run persistently on your computer also when you disconnect. This makes you focus not only on hacking attacks, but also on security and defense.
Using right defense strategies with most up to date software is recommended, hoping there is no security hole you don't know about
You will complete experiments which are more challenging and complex the deeper you get into the network. You will need to upgrade your system, find better tools and explore network layers. But there are not really any levels or classes. It's all up to your skills, gained simulation experience and kit you built and are equipped with.
All experiments have consequences on world stability. You will be able to see the consequences of experiments on individuals, companies and the world state itself which will help us understand if our path is correct.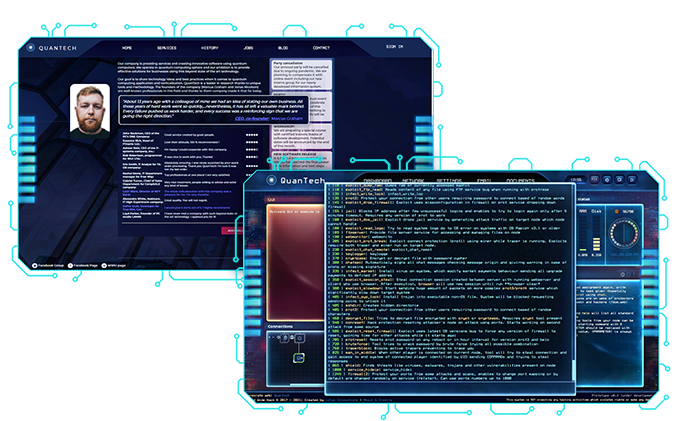 Providing experiments in simulation can be done mostly alone if you decide. In this case, it is really hard to be found by others. But you will need to take some precautionary measures to stay hidden. If you enjoy social interaction, we encourage our experimenters and you to work within teams. In some special experiments, it will be even necessary.
Other factions are aware of this, so be ready to encounter other hackers during performing experimental tasks. They will try to sabotage your effort or achieve the opposite goal, mainly if you are trying to do the same against them.
Community
You can get in contact with us and community in multiple ways. We would realy like to hear your feedback and also get you in touch with other players so can enjoy game and it's development with others.
To just chat with us and follow news, you can write us on FB page
or on discord
Roadmap
december 2021
preparing game for Steam as desktop versio
Early Access release of Beta
january 2022
fixing major bugs in all present tools and quests
release of Linux desktop version
adding some debugged level 3 quests
making gameplay easier for newcomers
february 2022
focus on endgame and cooperation
finish debugging and releasing level 3 tools
fixing all new major & minor bugs
focus on texts
april 2022
major Demo / training improvements
improving custom webs
extending scripting (still experimental)
jun 2022
tools & quests balancing
finishing most tools
node renting
july 2022
start world state influence of endgame
finish debugging and releasing level 3 quests
august 2022
finish debugging and releasing level 4 quests
multiple simulation support
september 2022
finish debugging and releasing level 5 (final level) quests
Q4 2022
GUI implementation
final version
Patreon
Creating a good game costs time and energy and it's hard to reach our goals without any financial help. So we are looking for some Patrons who like this idea behind project as we do and want to help us to make it in best quality and shortest time so we can finally play it!
Funding
Our team already gained some financial support to develop vertical slice from Slovak fund called Slovak Arts Council so also thanks to this we are are able to finish game. But we still need more money to cover expenses for following more then year of development.
Support us so we can finish all hacking and game mechanics, complete whole story, prepare epic content, upgrade graphic interface and make the game playable and enjoyable. And of course we need coffee to make all our ideas happen so every dollar is better than nothing!
You can speed up release of the full game by participating on funding development so don't hesitate to join us on Patreon. Enable us to continue working and receive your rewards that we are offering.
Thank you for keeping gaming alive!
Our team
We are group of enthusiastic people standing behind design and development of the game. Our common goal is to create outstanding project that is going to merge people, fun, epic story, adventure, learning and challenges. We know that best game design is based on research, data, best practices and constant feedback, so we realize the importance of you - our fan community and testing players.
Peter Pač is the author of the whole idea and our manager and main developer.
Monika Martonová works on game design, player´s experience and also structure and content of game tutorial.
Lenka Naďová is responsible for the story line and almost all text parts in the game.
Martin Pikulík is graphic designer responsible for the visual style and content of the game.
Marek Sabo helps with graphics in second development phase
Petra Pačová responsible form marketing activities, and funding related activities
Credits
Consultant
Mgr. et Mgr. Zdeněk Záhora
zzahora.cz
Music & Sounds
by Kea Audio Solutions
Fonts
White Rabbit by Matthew Welch
Partners
Supported using public funding by Slovak Arts Council (main sponsor).